To celebrate the time of renewal for this year's festivities, the Shangri-La Paris is introducing a variety of offers: an exceptional Christmas Yule log by Pastry Chef Maxence Barbot, festive brunches, of parties and surprises, winter tea time and exceptional menus by Chefs Christophe Moret and Samuel Lee, at La Bauhinia and at the Shang Palace …
The Christmas Yule log
Maxence Barbot has given free rein to his imagination with this delicious delight: the Honey Spoon. This unique piece is a tip of the hat to the bee and its symbolic importance for the Bonaparte family. Prince Roland Bonaparte was the owner and resident of the Palace, that is home to Shangri-La Paris today. As a tribute to his Breton origins, the Pastry Chef also wanted to make guests travel to his native region by using buckwheat honey.
The log tasting is meant to be playful and surprising. Once the dulcey chocolate handle of the spoon is removed, the desserts are revealed and can be enjoyed one by one. For those who are fond of sweet treats, the black chocolate dessert stands can be melted in a saucepan and mixed with a touch of milk to make a delicious hot chocolate to sip by the fireside.
The 2022 King's cake
Maxence Barbot has designed a unique and eclectic King's Cake to celebrate the Epiphany. To mark the occasion, the Palace partnered with the prestigious jewellery and luxury brand Bucherer to create a truly unique surprise. Inspired by his Breton roots, Maxence Barbot has placed caramel with buckwheat slivers at the centre of his creation. Its velvety creaminess and balanced taste will delight patisserie connoisseurs with a discerning palate.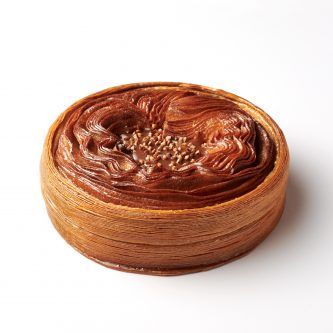 For the second year in a row, after a successful collaboration in 2020, Shangri-La Paris and Maison Bucherer continue their collaboration. Inside each cake, guests will discover a lucky charm, which will allow them to receive a breath-taking gift : a gemmology or watchmaking workshop, a voucher worth 600€ to spend at Carl F. Bucherer or worth 300€ to spend on the Bucherer Fine Jewellery B Dimension jewellery collection, or a leather watch strap.
A particularly coveted charm will give its lucky finder the chance to win a truly exceptional gift worth 3875€ : the Heaven white gold and diamond necklace created by Bucherer Fine Jewellery, as well as a dream overnight stay with breakfast in the former house of Prince Roland Bonaparte, Shangri-La Paris, with its stunning views of the Eiffel Tower.
Chef Samuel Lee has created an authentic culinary journey at the Shang Palace for a festive experience. The only Michelin-starred Chinese restaurant in France, Shang Palace, is a reference in Paris for gourmets who wish to escape to the Middle Kingdom. To enhance Christmas and New Year celebrations, the Hong Kong Chef has created two tasty and surprising menus, combining tradition and originality.
Festive tea-time at La Bauhinia
For a cosy and comforting winter afternoon, Maxence Barbot's Tea-Time with festive flavours is a must.  The Pastry Chef created a delicate range of pastries including the famous Christmas spice brioche served with seasonal fruit marmalade, the Gingerbread walnut financier or even the Lemon meringue pie. To be enjoyed while listening to a live piano show !