To celebrate N° 5 and its one hundred years of celebrity, CHANEL has developed CHANEL FACTORY 5, a revolutionary experience that has made it possible to produce a completely new collection, with N° 5 as its sole ingredient. Seventeen limited-edition products inspired by everyday objects, a reminder that wearing N° 5 transforms the ordinary. This limited edition collection is to be discovered in its production site specially recreated for the public.
CHANEL Factory 5: the original N°5 collection from the factory
Today, the way we consume is  changing, and the value of an object goes beyond its production cost and its use. Body oil in a burette, bath tablets in a tea tin— by reusing 17 everyday objects in this collection, N°5 has subverted thei functions, demonstrating once again that luxury is in the experience we have of things.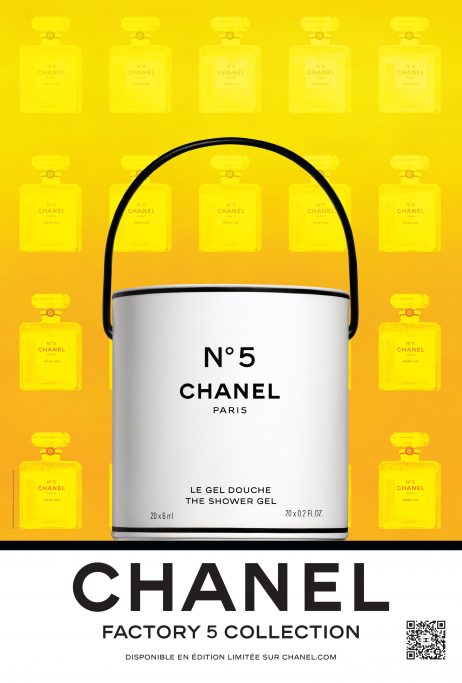 CHANEL Factory 5 symbolizes a return to the essence of the approach initiated by Gabrielle Chanel, her desire to break the codes and free herself from constraints. Through this concept, CHANEL proposes a return to the first packaging of N°5, which was a simple laboratory bottle, a functional object that became luxurious and iconic. CHANEL FACTORY 5 celebrates the fact that through the years, the idea of the first bottle is still present and accompanies N°5. "By taking popular consumer items out of their context and dressing them up in the aesthetics of N°5, we return to CHANEL's first creative gesture: that of transforming a functional object into a desirable luxury item. That's what CHANEL Factory 5 is all about: offering the experience of luxury in everyday life." says Thomas du Pré de Saint Maur, Chanel's Head of Global Creative Resources Fragrance and Beauty.
CHANEL Factory 5, coming to a city near you ! 
From June 29, CHANEL will deploy this industrial scenography across the world's largest cities. These pop-ups, imagined as theme parks dedicated to N°5, immerse people in a world which mixes the black and white identity of N°5 and the bright colors of pop culture. The experience is intended to be entertaining and offers a journey around the 17 products in this limited edition collection.
In a factory setting, the public follows the product through the various production line workstations and ends its journey with a visit to the factory store where they can watch playful, offbeat demonstrations.
The House of CHANEL also offers a digital version for those who wish to see the CHANEL Factory 5 without going to the pop up.