In 1927, Gabrielle Chanel created her first skincare line to protect and maintain the natural beauty of the skin. In this way, she provided a holistic vision so modern, that it still resonates today with women who want to affirm their beauty and uniqueness, at every age.
For these women, CHANEL created LE LIFT, a high-performance skincare line based on an original approach to anti-ageing, firmness and anti-wrinkle products. With LE LIFT, CHANEL is committed to combining efficiency with a sensorial touch, thanks to formulas that honour the natural element.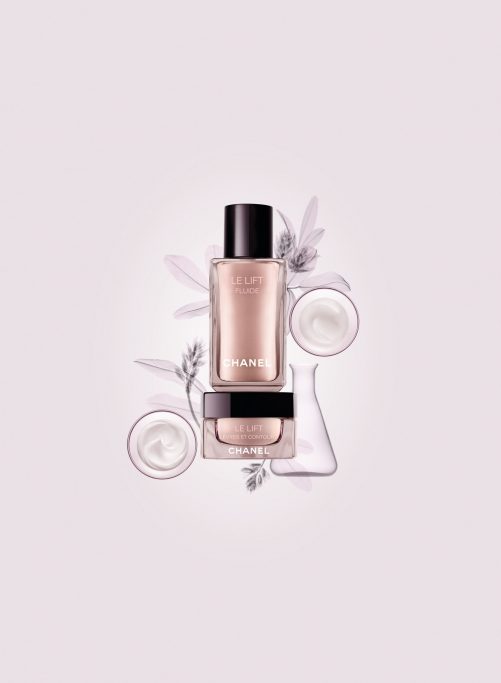 The science of Matte finish 
For 30 years, CHANEL Research has been looking at every dimension of women's beauty and possesses a unique tool for studying their skin, in the shape of a database of 60,000 photographs coupled with more specific skin analyses and information about environmental exposition, as well as their lifestyles. This study reveals that 34%* of women over 30 are concerned with excess shine. So that women no longer need to choose between protecting youthful skin and cultivating perfect skin texture, CHANEL created LE LIFT Fluid. With an astonishingly a light sensorial feel, it targets signs of age and provides a matte finish with the same efficiency.
A duo of high performance ingredients 
LE LIFT Fluid owes its double anti-ageing and mattifying power to two plant extracts selected by CHANEL Research. Cultivated organically in France, alfalfa is an ancient plant particularly rich in minerals and trace elements. The botanical alfalfa concentrate comes from its seeds, and is extracted using a green biotechnology process.* The signature ingredient of the LE LIFT line, it possesses an action comparable to that of retinol** both at an epidermal and dermal level, while being gentle on the skin. It acts on keratinocyte differentiation and proliferation and thereby leads to an epidermal thickening of 13%.** Collagen synthesis is stimulated, and the cutaneous barrier is consolidated. Obtained by aqueous extraction from seeds pre-dried in the sun, roucou seed extract reduces sebum production by significantly decreasing sebaceous gland activity and pore size. The skin is lastingly mattified and skin texture is refined.