Deep cleaning is the secret for beautiful skin. Erborian offers the magic formula for perfectly cleansed skin thanks to the ABLACKADABRA box. Enriched with Charcoal, a super-ingredient used in Korea, these beauty allies help anyone retrieve the perfect skin – just like with a magic wand trick.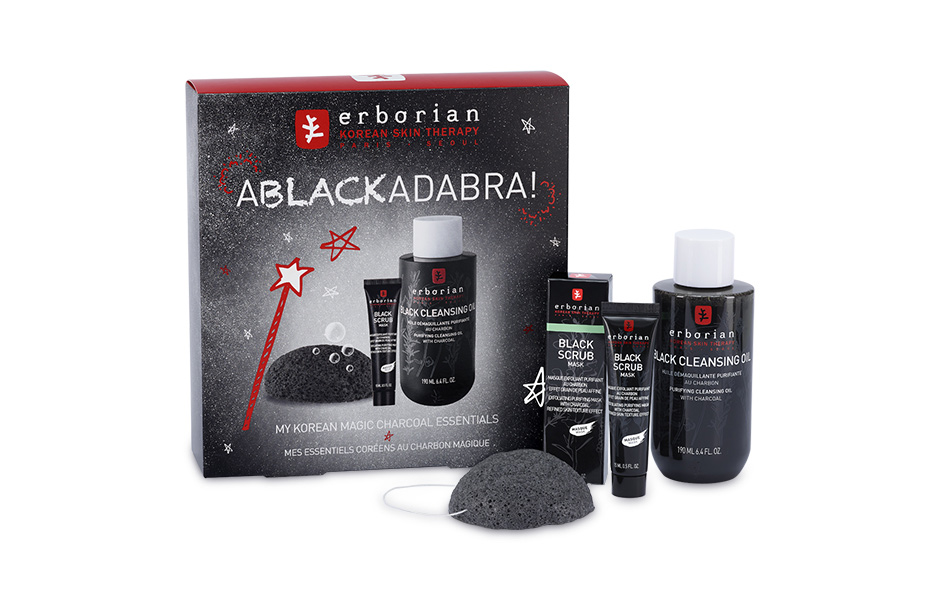 The Black Scrub is formulated from Charcoal powder, known in Korea for its mattifying virtues, and micro-cotton fibers, BLACK SCRUB is a purifying exfoliating mask with triple action. In a fresh gel texture, it helps to release skin from impurities, eliminate dead cells and absorb excess sebum for a matifying effect. BLACK SCRUB helps to refine the skin texture and soften the shine areas for purified, smoother, visibly brighter skin with a matte finish.
The Black Cleansing Oil offers radiance and comfort. Its silky texture transforms into a light emulsion on contact with warm water, for a delicate but effective cleansing. BLACK CLEANSING OIL gently removes impurities, excess sebum and traces of even tough and waterproof make-up. The skin appears clean, supple and nourished, as if wrapped in a non-oily protective veil: the complexion is as clean, fresh and radiant.
The Konjac Sponge is the perfect accessory to naturally cleanse, exfoliate, and nourish skin. The Bamboo Charcoal KONJAC SPONGE is made from Konjac, known for its cleansing properties, and bamboo charcoal, known for its mattifying properties.