A long-time friend of the hotel, Creative Director Sandra will unveil her creation in the hotel lobby on the morning of Wednesday 23rd November, 2022. Named 'The Diamond', this magnificent sculptural creation will be crafted from reflective mirrors and accented with light which will pulse and undulate.  The diamond has long been a special icon in the world of Jimmy Choo with Sandra often dreaming of what it would be like to step inside one – therefore the tree will be created for guests to actually enter and stand inside to take in a magical and shining, diamond-refracted space.  The tree will be finished with a giant, glittering bow topper – a nod to one of the key design themes of the brands winter collection.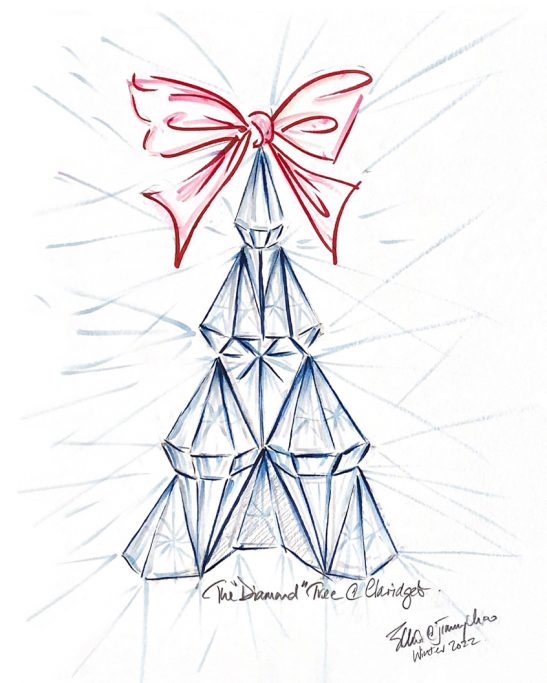 Commenting on the collaboration Sandra Choi said "Claridge's is a London icon. The perfect blend of glamour and decadence – great things happen at Claridge's. There's a magic energy as you enter the doors that's contagious, from the warmth of the staff to the discrete buzz of guests in the lobby.  And at night the hotel invites you to party. Claridge's is a London jewel, it's multifaceted, like the diamond that inspired our tree, like Jimmy Choo."
Claridge's General Manager Paul Jackson said "I am delighted to welcome Sandra Choi to bring Jimmy Choo's distinct glamour to the hotel. Christmas is always a truly magical time of year for us here at Claridge's and this year, we look forward to seeing guests and visitors step inside Jimmy Choo's sparkling world."
The Claridge's Christmas Tree has long been a seasonal London landmark and symbolises the start of the festive season in the capital, drawing visitors and Londoners alike to admire its creative design. This is the twelfth year Claridge's has invited one of its distinguished guests to reinterpret the tree in their own distinctive style.