Last month, I got to try the latest ClarinsMen products, launched on March 1st. A real shot of energy to recharge the batteries of those who lead very intense lifestyles and whose skin might suffer the consequences. Fresh, invigorating textures help 'reset' the skin and leave it feeling ultra-stimulated just a few seconds after application.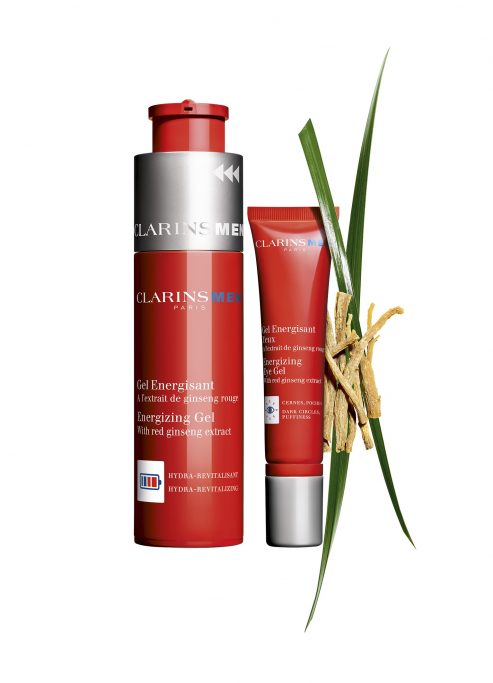 True: men's skin needs more energy
First, because under the influence of androgens, men's skin is thicker, and skin cells renew themselves faster. Their skin needs more energy in order to function optimally.
Also, because of the impact a super busy life can have on mitochondria, or, skin cells' 'energy-producing factories'  that help support proper cell functions. It has been noted that mitochondria can become damaged by oxidative stress (brought on by a busy lifestyle) and produce less energy. 
As a result, cell function is slowed down and the consequences of this happening become visible: loss of radiance, signs of fatigue and premature skin ageing.
ClarinsMen's latest innovation: G-RED complex
To help men feel good, there's nothing like having energizing, healthy-looking skin. Skin that is toned, hydrated and supple. To achieve that goal, ClarinsMen's latest innovation is a new-generation ingredient complex: the G-RED complex, containing organic red ginseng. After having studied no less than 84 plants, Clarins Laboratories identified this truly unique root that matures for 6 years, which increases its richness in active molecules and makes it more effective than white ginseng. 
Organic red ginseng extract helps boost the skin's energy production and is combined with extracts of bison grass (organic plant) and gymnema extract to energize and stimulate the skin. Organic red ginseng extract works like a battery to help boost energy production when mitochondrial activity has slowed.  It helps preserve proper functioning, even under the effect of external aggressions. 
As always, the products in the ClarinsMen range also include gymnema extract + extract of bison grass (organic plant), with energizing and soothing properties. 
 The product range 
ClarinsMen's latest product line includes an Energizing Gel that energizes, hydrates  and strengthens the skin. This fresh, toning gel that is invisible on the skin, and gives an immediate refreshing effect of -2°C.
The Energizing Eye Gel visibly revives the eyes (reduces dark  circles, puffiness), hydrates and strengthens the eye contour. An ultra-refreshing gel, with a tri-ball applicator that massages and drains the eye contour.