2018 marks the return of diptyque to Paris with the opening of a new shop. An opening as to celebrate 50 years of perfume creation, after the house's first perfume was launched in 1968. 50 years of perfume creation started in Paris' left bank, that are well worth this renaissance with unexpected olfactory experiences. For the occasion, diptyque crosses the bridge of the Concorde to dock in the chic world of fashion, on the right bank, at 332 rue Saint Honoré.
A new boutique
The new diptyque boutique brings together two visions: those of the rigorous and visionary architect, anxious to convey the inspired and inspiring world of diptych. Those of the artist who will stage one of his olfactory landscapes. Originally a pop-up shop, the new boutique reflects the House spirit of discretion, mystery and Parisian elegance of its own.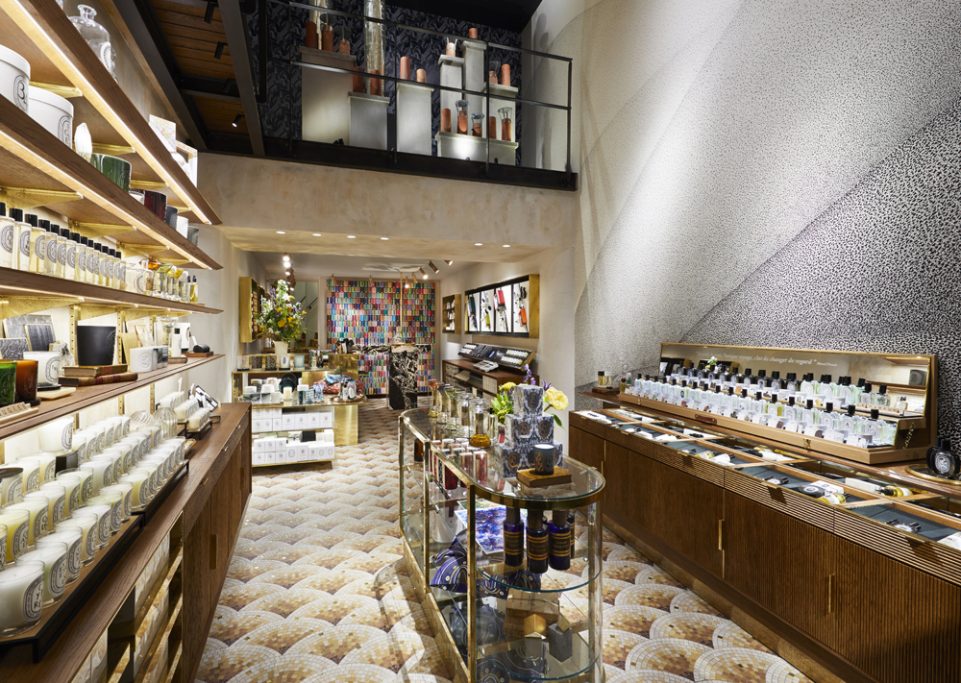 With this new boutique, diptyque manages to bring its visitors a sensation of peace, far from the outside street that unrolls its processions of passers-by and cars. The green lacquered wood facade, an initial shade of that of one of the first store fronts at 34 Boulevard Saint Germain, evokes a gallery of paintings on the left bank. The emblematic oval of the house engraved in the stone above the entrance, the brass letter sign, the censer painted in gold leaf on the door, all the exterior signs and codes of the brand are present.
On the floor, a mosaic, all of blond scales like those running under the arches of the rue de Rivoli, worn by time, brings a soft and graphic note. The walls, complete with a mezzanine, are patinated, the exposed ceiling reveals a subtle rose window, the shelves attached to the racks recall the storage of an artist's studio. The 34 collection and the Art of Care on its rectilinear marble console return the products to a contemporary reality.
A visual and olfactory experience
As always at diptyque, but for the first time in the architecture of shops, art and fragrance combine and initiate a new experience. Inspired by one of Desmond Knox-Leet's drawings ( the co-founder of the House), Alix Waline has created a graphic, poetic and perennial work. An abstract, deep landscape, with sensual forms in nuanced blacks and whites: a work that invests the whole right side and transforms it into a living and cerebral wall where the eye is lost, according to the curves. The fragrances find a poetic resonance, and the senses connect in an unusual way.
It is in fact to a disruptive experience, between visual and olfactory, that the brand invites us with its ritual discoveries of eau de parfum and eau de toilette. Recalling the palette of the painter, a box composed of several floors presents, by olfactory collections, all the fragrances. Each bottle is reflected in the mirrors to better reveal the written travels with the black line in the ovals on the back. In front of each of the perfumes, a small delicately marbled cup contains, not a color, but the pure expression of its fragrance. No sooner has it been taken that it opens as if by magic, and that the perfume, encapsulated in the material itself of the object, exhales in all its complexity …