A highly anticipated event in Paris: Maisons Pariente's newest 5-star property in the heart of the Marais will open mid-June. Le Grand Mazarin combines three historical buildings dating back to the 14th century, that interior architect Martin Brudnizki restored to its original grandeur. Le Grand Mazarin features 50 rooms and 11 suites, a festive restaurant, two bars, an indoor pool with a fitness center, and a hammam right in the heart of Le Marais. At the corner of rue des Archives and rue de la Verrerie, Le Grand Mazarin celebrates the heritage of eternal Paris, the love of the arts, the taste for sharing, the vision of a relaxed and chic luxury. A new emblematic place in this endearing district, Le Grand Mazarin reinterprets its unchanging personality.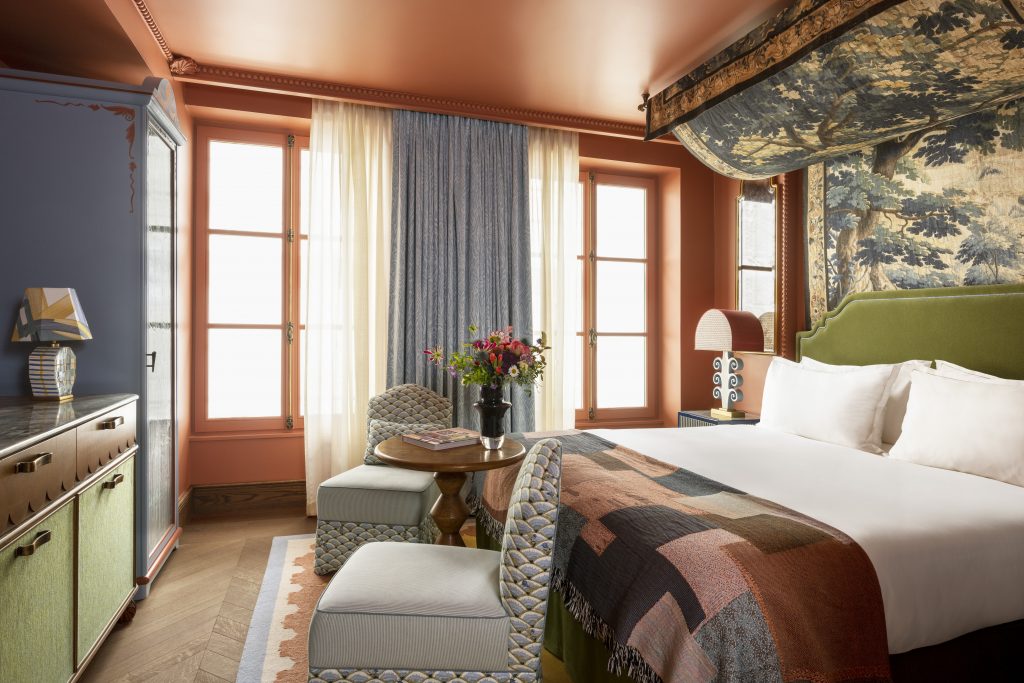 Elegance and creativity above all…
With the eclectic vision of Martin Brudnizki, an internationally renowned interior designer, who has designed the singular and flamboyant décor of a completely unique hotel in the Marais. A tribute to French classicism, boldly offset by the talent of the designer and enhanced by the best of the arts and crafts.
A warm and unique atmosphere…
To be discovered in the 61 rooms and suites, from the bar to the restaurant, from the terrace to the swimming pool… Refined spaces, with furniture and vintage objects, celebrate the authentic art of living of Maisons Pariente, as imagined by Leslie Kouhana, President and Kimberley Cohen, Artistic Director.
Boubalé, a joyfully festive spirit…
In Boubalé, "my little darling" in Yiddish, the affectionate code name used by Eastern European grandmothers to talk about those they love. A whole state of mind for the restaurant, the bar, the winter garden and the terrace, not forgetting the mysterious cabaret. The beautiful team of JLM Group (Balagan, Shabour*, Tékès, Shosh…), partner of the Pariente family, has taken up the challenge of offering a new experience, which promises to make Paris vibrate with an energy as whimsical as it is generous. In Boubalé, the creativity of well known Israeli chef Assaf Granit dares to revisit the Ashkenazi culinary tradition of his childhood for the first time. Adorned with irresistible colours and flavours, mixed with an eclectic modernity, the dishes are delicate and delicious. A gastronomic journey to an unknown land, on the borders of Central Europe and the Mediterranean…