After joining the Parisian Palace earlier this year, young chef Quentin Lechat is now creating his first holiday dessert for the Palace.
The Signature "Bois d'Atlantique" Yule log
Recalling the log that warms our winter evenings or the one that ends up on our shores, Quentin Lechat's signature creation offers sweet and fresh flavors, a true ode to his native Brittany and to his family Christmas evenings. He came up with the idea of ​​creating a Christmas cake in the shape of driftwood, which he would traditionally find while running on the beach on Christmas day.
By choosing chestnuts and lemon as main elements of his creation, Quentin Lechat wanted to create a gourmet and comforting dessert, whose flavors counterbalance the raw aesthetic of driftwood. The delicious chestnut mousse and its fine Tahitian vanilla whipped ganache, as well as the tasty creamy heart of
chestnut bring richness. This visual and taste contrast is sublimated by a thin layer of lemon, which offers a fresh and explosive note in mouth. This delicate dessert also consists of pieces of driftwood made of chocolate.
The technicality of the creation lies in its chocolate coating and in the long cutting work which gives this particular finish. This method is akin to a real sculptor work, resonating perfectly with the artistic dimension of the Palace.
To ensure a unique experience, each piece is numbered to make this  "object cake" exclusive and guarantee a unique moment.
For lovers of classicism, Quentin Lechat created another Yule log with simple and refined lines, that will appeal to chocolate lovers
Composed of a rolled biscuit in choux pastry with cocoa flavor, a creamy chocolate praline and a generous chocolate mousse, this Yule log is a simple and effective dessert that will delight everyone.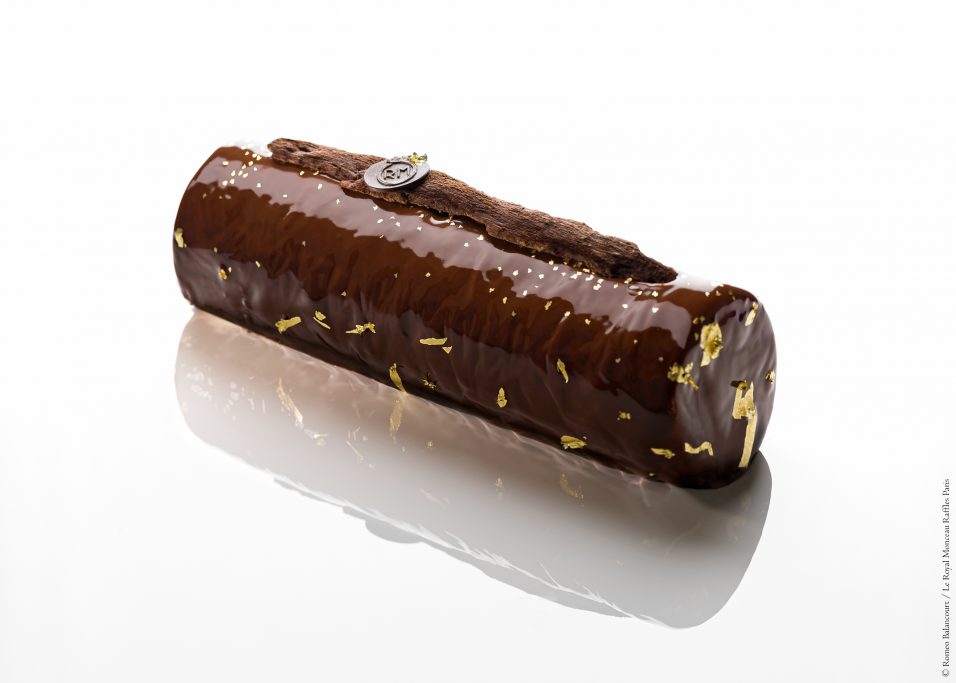 Both creations are available for order between November 20th and December 20th, on dining.paris@raffles.com