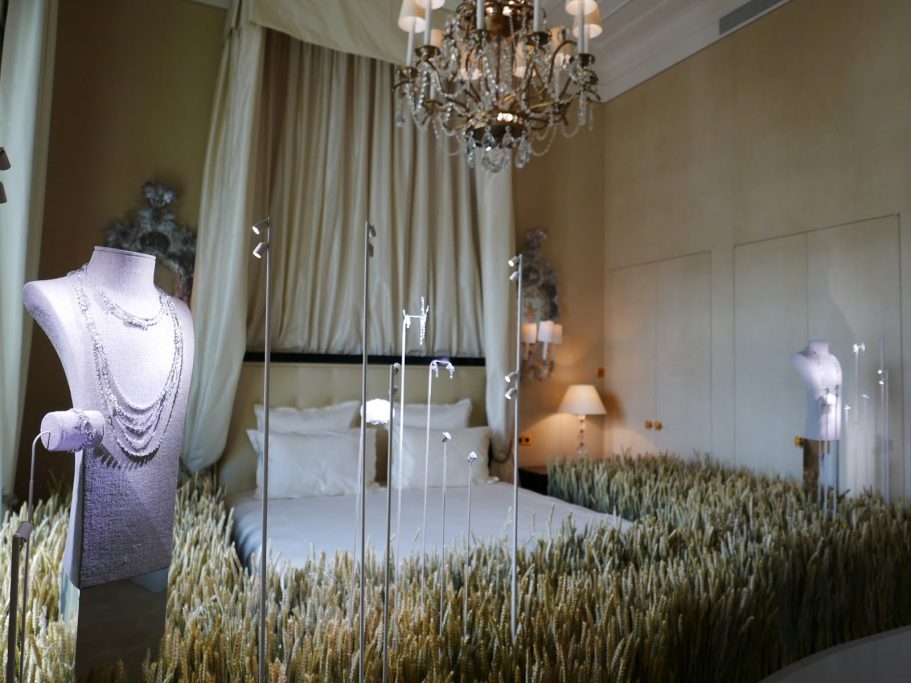 «Les Blés de CHANEL» at the Ritz Paris – shot with my LeicaThe High Jewellery collection «Les Blés de CHANEL», introduced last July at the recently reopened Ritz Paris, celebrates for the first time a fundamental element of Gabrielle Chanel's world. An eternal symbol of regeneration, abundance, luck, prosperity and endless creativity. After the Lion, the comet and the camelia – just to name a few, 
CHANEL
 turns to another fundamental element of Gabrielle Chanel's world for the Maison's latest High Jewelry collection: wheat.
Mademoiselle Chanel's link with wheat starts with her date of birth, as August 19th coincides with the harvest festival. This celebration held at the end of the summer was the symbol of renewed prosperity and abundance because the harvests were plentiful and the granaries were full.
Later in life, real, in wood, bronze or in a painting by her friend Dalí, wheat was present in all its forms in her apartment at rue Cambon, in her suite at the Ritz or in her home in La Pausa.
The new collection follows the life cycle of wheat, and these 62 high jewellery pieces in all their softness appear like a wheat field moving in the breeze:
«Premiers Brins», «Brins de Printemps» and «Brins de Diamants» pay homage to the tender young wheat shoots of early spring. Diamonds, peridots, crystalline and aquamarines play with transparency like young stalks of wheat.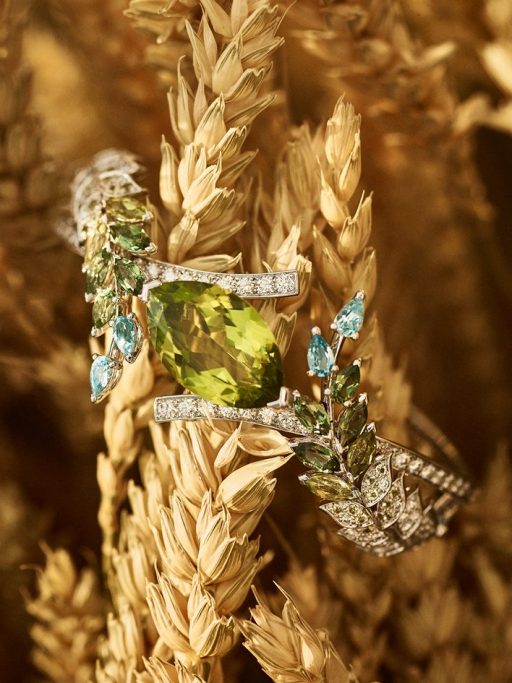 "Brins de Printemps" bracelet in 18K white gold set with a 9.8-carat marquise-cut peridot, 4 marquise-cut peridots for a total weight of 1 carat, 6 marquise-cut green tourmalines for a total weight of 1.5 carat, 233 brilliant-cut diamonds for a total weight of 3.2 carats, 4 pear-cut aquamarines and 2 pear-cut green tourmalines.
The harvest is evoked through the variations of «Moisson Ensoleillée», «Bouquet de Moisson» and «Moisson de Perles" where diamonds, yellow sapphires and pearls bask in the golden warmth of a Summer's sun.
«Moisson d'Or» offers a sheath of wheat tied by a yellow sapphire of 16.8 carats. This
spray of diamonds and sapphires is the central motif of a long necklace made of 977 yellow sapphires for a total weight of 477.5 carats. The same inspiration can be found on a brooch, earings and a ring whose centre stone is a yellow cushion sapphire of 17.1 carats.
«Fête des Moissons» celebrates crowns of braided wheat. At the middle of a necklace, a yellow rectangular diamond of 25 carats with cut corners illuminates a bunch of wheat set with 121 multicolored diamonds with a total weight of 46.7 carats, 932 yellow diamonds weighing 40.4 carats and 165 white diamonds. A ring, a bracelet and a pair of earrings complete this set.
«Champ de Blé», «Impression de Blé» and «Blé Infini» offer many variations on thetheme of wheat and reinvent the motif as a precious and sparkling pattern design.The «Cascade d'Epi» necklace and earrings are soft and golden, curling gracefullyaround the neck or the ears of the woman who wears them. These are the wheat inJune that appears as the ear-of-wheat blooms.
«Champ de Blé» evokes the wheat of early summer in a more abstract series of pieces.
Mounted on yellow or white gold, diamonds are entangled in a network of foliage. Finally, the «Légende de Blé» necklace displays a majestic ear-of-wheat in white gold and diamonds that seems to wrap around the neck, leaving there summer's most precious offerings. With this collection, wheat offers a lavish entry into CHANEL High Jewellery and pays tribute to one of Gabrielle Chanel's most personal symbols.