An emblem set with a three-pointed star, which celebrates excellence and exception. And a brand that goes through history, defies trends and constantly renews itself: demanding, innovative, always in search of quality, Mercedes-Benz is much more than a car manufacturer ! Now present in many creative territories, such as design, fashion and beauty, the brand has decided to broaden its image by launching its own line of perfumes 10 years ago.
Mercedes-Benz Parfums has since then slipped into its perfume bottles for men and women everything that has made it unique and famous since 1886: a striking charisma, an innate sense of detail, and a passion for what is rare and unexpected. Born from the union of innovation and know-how, its fragrances stand out as high quality products. A seductive blend of strength and delicacy, romance and power, mystery and sophistication. An ode to elegance and the exaltation of the senses.
To make these exceptional fragrances, each ingredient has been carefully chosen and each combination imagined with originality – in close collaboration with master perfumers from all over the world, such as Fabrice Pellegrin. Mercedes-Benz has entrusted the design of its bottles to major international agencies, and their manufacture to the best French master glassmakers.
Mercedes-Benz's new fragrance, SIGN YOUR ATTITUDE, is the expression of a signature character: the Eau de Toilette was designed to surprise and seduce, with the three-pointed star of Mercedes-Benz as a key signature element. Iconic and instantly recognizable, it is the emblem of those who have made uniqueness and triumphs their signature. Placed in the center of an ergonomic and resolutely modern bottle, the Mercedes-Benz emblem is a distinctive sign, that of masculine excellence.
The intense midnight blue of SIGN is adorned with shades of gray from SIGN YOUR ATTITUDE.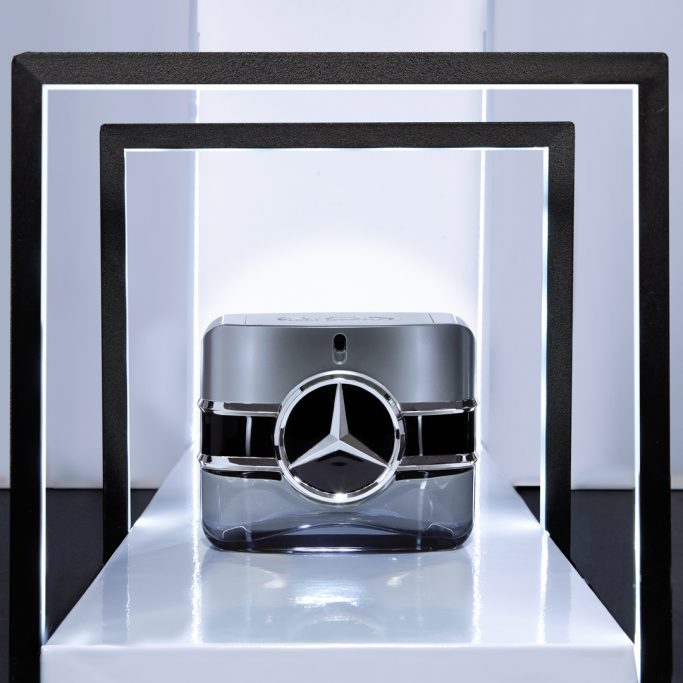 The perfume is an irresistible fragrance that opens with a fresh cocktail of bergamot, tangerine and ginger. This bold alliance reveals an aromatic bouquet of lavender and cypress, enhanced by a note of cinnamon and nutmeg. Hot spices sublimated in their turn, by an amber note for a deep fragrance, powerful, modern and irresistibly masculine.