Based on a thorough physiological understanding of men's skin, Clarins Research has created two new products to complement the ClarinsMen range: Hydra-Sculpt and UV PLUS. These two new formulas combine the best botanical ingredients from the latest technological discoveries that work to promote healthy-looking skin while offering effective protection.


Why Hydra-Sculpt:
With Hydra-Sculpt, Clarins' promise is quite appealing: "Look good from every angle". To reach that goal, Clarins makes several assessments, one of them being that mens' skin is more fragile: it undergoes the effects of shaving which means it can get cut, look red and develop imperfections, ingrown whiskers and feel uncomfortable. It is also thicker than women's skin, which means that the cells need more energy to ensure their healthy functions: under the effect of age and the pull of gravity, thick skin loses firmness, the face's oval begins to lack definition and the jaw area becomes thicker…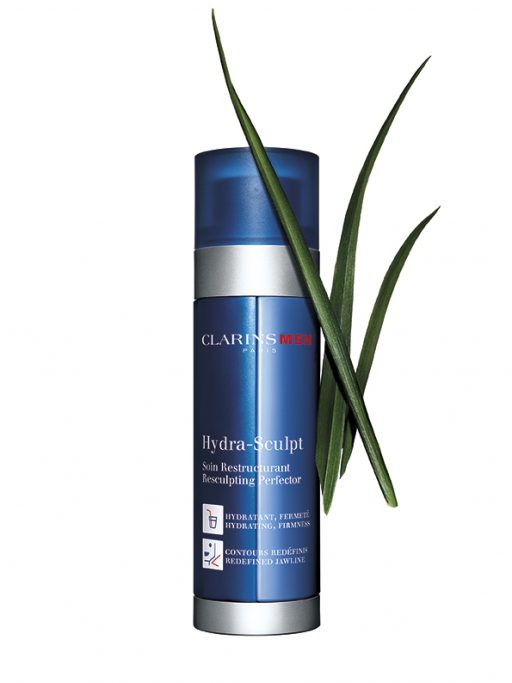 Hydra-Sculpt: a resculpting perfector
With or without a beard, men dream of firm facial features and well-defined angles: a square jawline and no double chin. To achieve that goal, Clarins has created its first double-action skin care product for men that helps improve the skin's aspect and visibly redefines facial contours. Now a man can look handsome from the front as well as from the profile, without making any compromise.
Hydra-Sculpt offers the following actions: it hydrates and firms the skin, and redefines facial contours, thanks to two textures: a "skin care" formula, concentrating all the power of hydration in a fresh gel texture with a skin-tightening effect that promotes a feeling of immediate freshness. In addition, a "redefined contours" formula, providing the comfort of a rich yet lightweight cream for soft, supple and comfortable skin.
My new favorite !