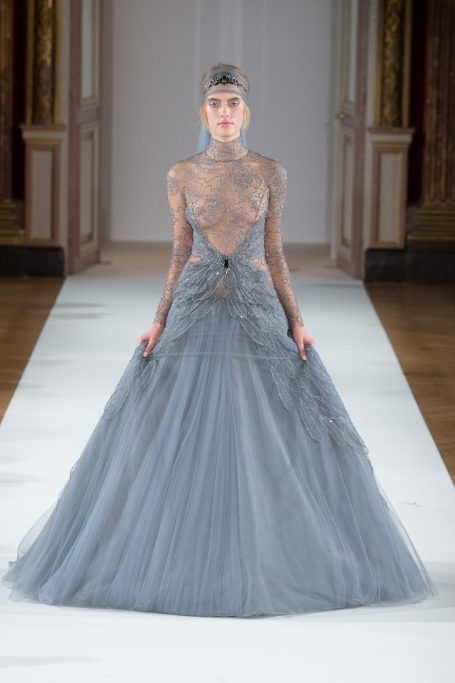 For Spring-Summer 2016, Yanina Couture takes inspiration from ballet, that runs through every detail of the collection: weightless dresses with piles of ballet tutus, and hats, like those worn by Anna Pavlova and Ida Rubinstein in 1910's, embroidery, taffeta, veil, tulle and velvet.
The Yanina Couture girl is definitely a young girl, a romantic dreamer, a refined and gentle Russian girl whose image is actual again in the contemporary cultural context.
For the first look of the collection, a friend of the brand, beautiful Deborah Hung, appear in a gown of white feathers with a red ruby at her heart.
The collection has a strong cultural base: literature, painting and ballet. Love for Russia and France is joined together: the Yanina Couture heroine is brought up on Russian classics and the French novels simultaneously, loves impressionist paintings and Diaghilev's "Russian seasons". The collection has become a kind of dedication to these historical and aesthetic links between Russia and France with a declination of colors from pearl grey to powdery pink.
As Yulia Yanina says, "Perhaps the image that mostly inspired me while I was creating the collection was "The Swan Princess" by Mikhail Vrubel. Especially it affected the final "wedding" image: elegant pearl- grey fabric and a silver veil, a cloud of shades and reminiscent of wings embroidery – all that was inspired by the mysterious, mesmerizing image of The Swan Princess."