Piaget introduces Glowing Lanterns, Voluptuous Borealis and Celestial Ballet, three new High Jewelry sets that are part of its Extraordinary Lights collection.
Glowing Lanterns 
Showcasing the most extensive color palette of all stones, tourmaline exists in different shades bringing together almost all shades. The green tourmalines are particularly prized for their color and exceptional intensity. The stone must be cut with extreme care so that the beauty and the intensity of its color are
elated. Gems with such natural qualities – and dimensions – require the most talented jewelers. At the heart of the Glowing Lanterns necklace, a 35.64 carats cushion cut tourmaline radiates, while the ring is adorned with a central cushion cuttourmaline, surrounded by baguette cut ones. Two of the same stones are also used on the earrings of the set. The whole set also honors white marquise and baguette diamonds, forming a delicate contrast with yellow diamonds.
Voluptuous Borealis
It took more than two years to acquire the Zambian emeralds  that adorn the Voluptuous Borealis creations. The hardest to find was the pear shaped emerald
of the necklace, a blue green stone of extreme purity, reminiscent of the famous stones of Colombia. The eccentric position of this wonder of 10.29 carats creates a dynamism that can be found on the curls earrings, the ear cuffs and the cuff watch. The asymmetric ring is adorned with a central 5.31 carats emerald of similar quality.
Under the expert fingers of the master Piaget artisans, these colored stones form fascinating volutes of light, created by a mixture of baguette and brilliant cut diamonds. These dazzling "halos"were made possible by cutting each stone to measure, so that it fits perfectly. The jewelers have also worked the gold so that the light passes through each stone and is diffused with each movement.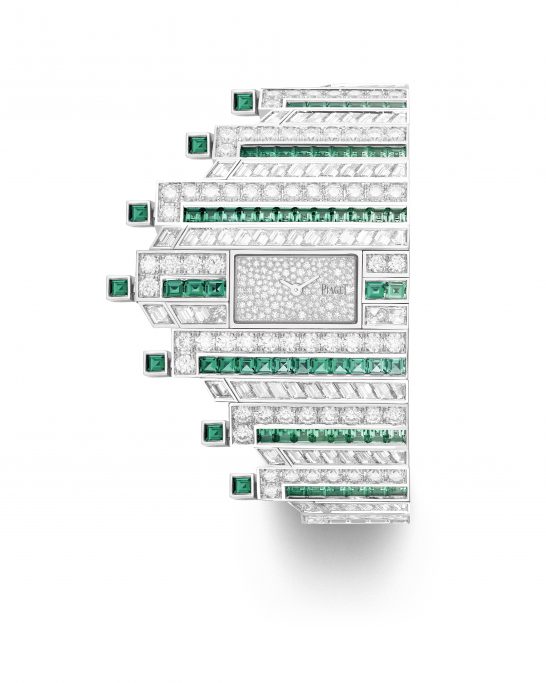 Celestial Ballet 
To achieve a perfect shade of blue, the jewelers have used sapphires like painters working with gouache, the stones affirming their sparkling nature. It took more than a year of research for Piaget to compose a set of blue stones of three different tones, with the same
purity and intensity. Shaped in marquise and troidia cuts, these gems are an imprinted allegory of cosmic glamor, the Celestial Ballet ring testifies,  like a comet. This  fascinating creation is designed to be worn so that its elegant pattern stretches over two fingers. A gradient of sapphires and diamonds form a sparkling  trail behind the central 2.71 carats stone from Sri Lanka of, imitating the spectacle of a rain of Lyrides.
The Celestial Ballet set seems to capture all facets and all the splendor of the sky.