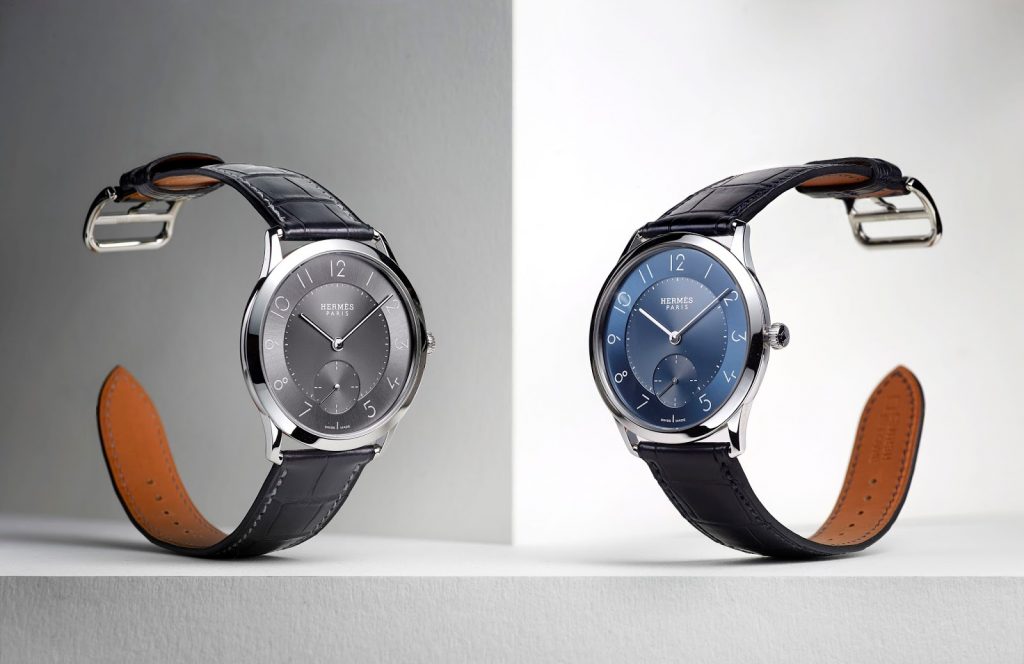 Slim d'Hermès Manufacture
Ahead of
Baselworld
2016,
Hermès
introduces new models to their Slim collection, debuted in 2015. The Manufacture collection now welcomes models paying tribute to the saddlery and leather-crafting expertise of the Maison; an epitome of extreme simplicity, striking the perfect balance between rigorous discipline and visual equilibrium.
As Philippe Delhotal, Creative Director of La Montre Hermès, points out: "The collection was born from encounters between the Maison, designers and artisans. The singular blend of contemporary and classic elegance embodied in Slim d'Hermès expresses the essence of Hermès."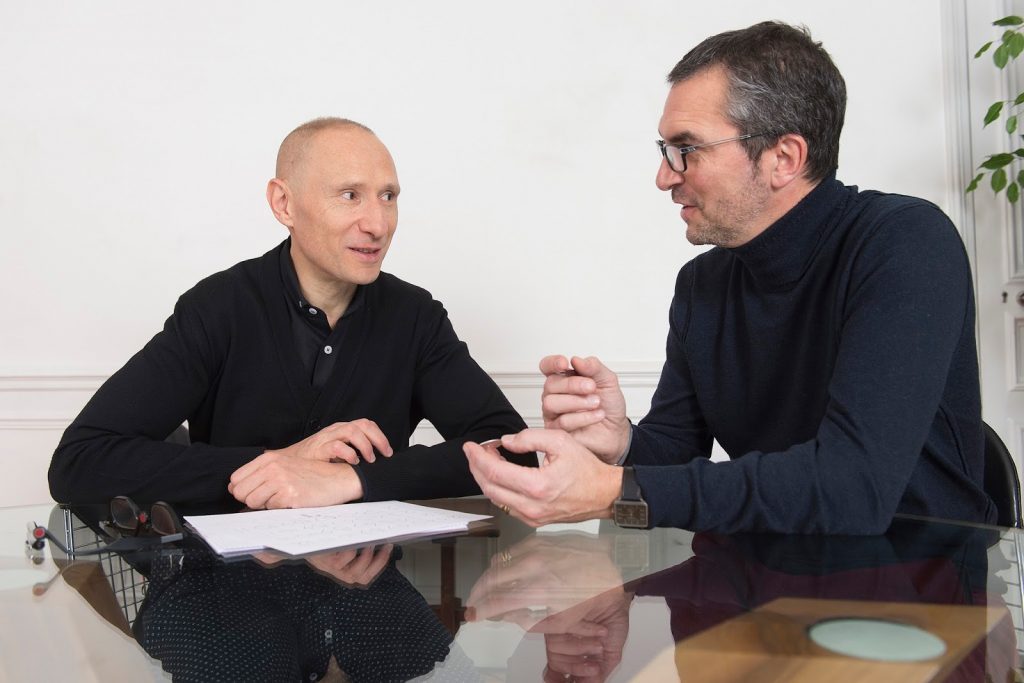 Philippe Apeloig and Philippe Delhotal working on the Slim d'Hermès Manufacture
With Slim d'Hermès Manufacture, graphic arts and horological skills meet and mingle in perfect harmony.
The outline of the numerals respects the natural function of a watch: ensuring the legibility of time, free of any superfluous elements. And just as rests accentuate the melody in a musical score, the lines are sometimes interrupted, representing silent areas in the design that depict the cadence of time.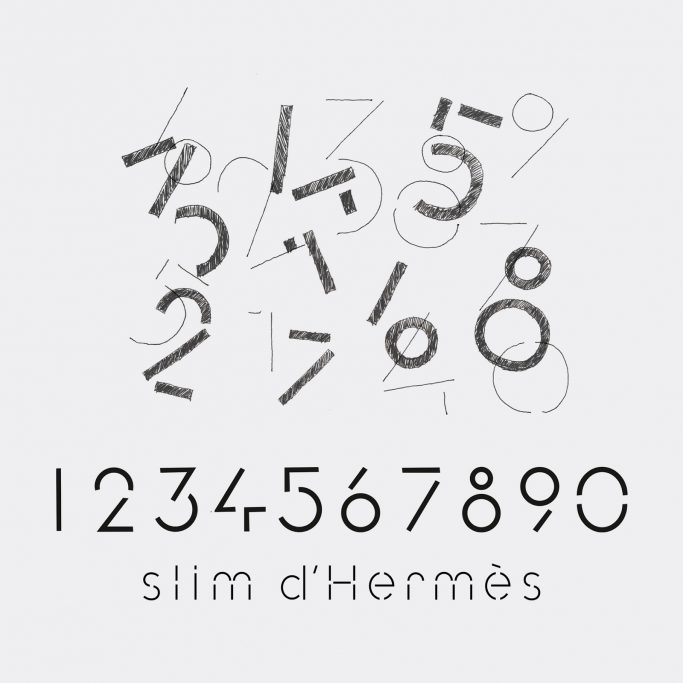 Slim d'Hermes typography by Philippe Apeloig
Designed like geometrical shapes, the hour-markers are drawn in a single stroke, without any counterweights on the ends. "I built it around fundamentals, just as a composer places only seven notes on a musical stave to create a symphony", explains Philippe Apeloig.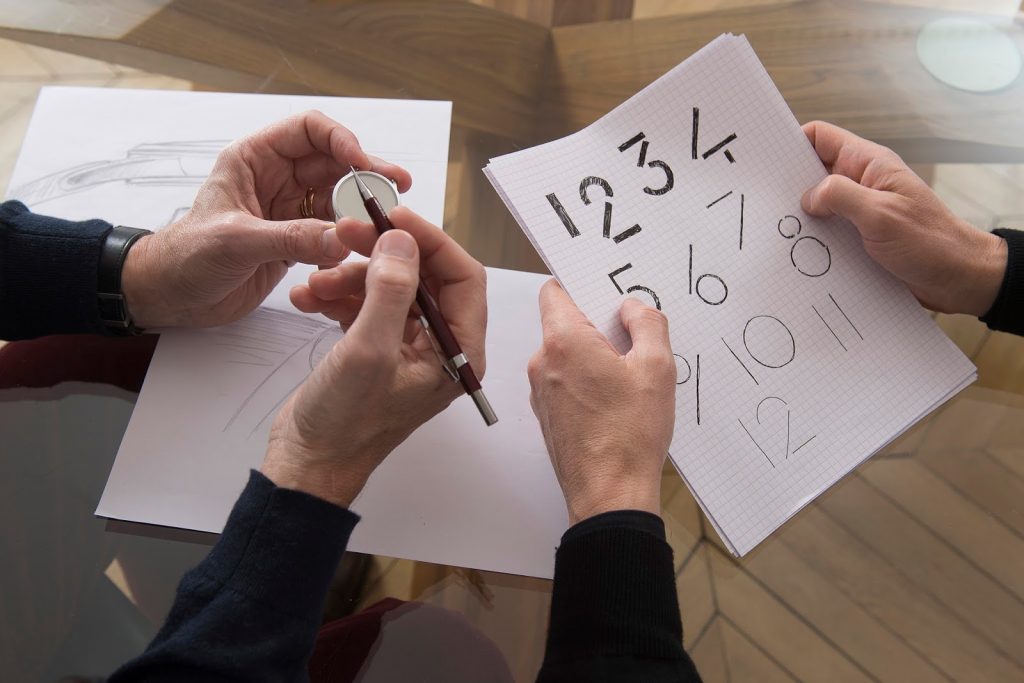 Philippe Apeloig and Philippe Delhotal working on the Slim d'Hermès Manufacture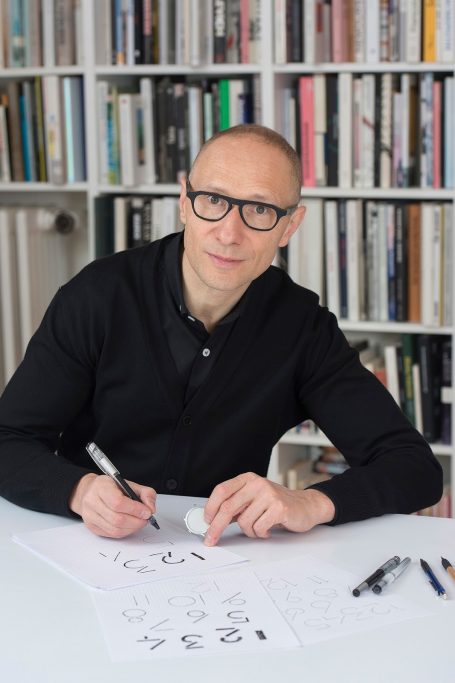 Philippe Apeloig designing Slim d'Hermes typography
Hermès debuted the collection in 2015 with a Slim d'Hermès Manufacture driven by an
ultra-thin H1950 movement and a Slim d'Hermès Perpetual Calendar – both measuring 39.5
mm in diameter – as well as 32 mm and 25 mm ladies' models.
Ladies are now also treated to a Slim d'Hermès Manufacture 39.5 mm version, equipped
with an ultra-thin movement and enlivened by alligator straps in vibrant colours – sapphire
blue, elephant grey, geranium, cassis or simply black – while featuring versions set with white
diamonds. An opaline silvered dial lights up the Slim d'Hermès Manufacture dedicated to
women. In the gemset version, 66 white diamonds delicately frame its circumference.


For men, the model is enhanced by new shades with a slate grey dial and matching elephant
grey alligator strap; while a matt indigo strap complements the hue of the Slim d'Hermès
midnight blue. Crafted in the Hermès leather workshops, these straps stem directly from the
saddlery and leather-making expertise cultivated by the Maison.