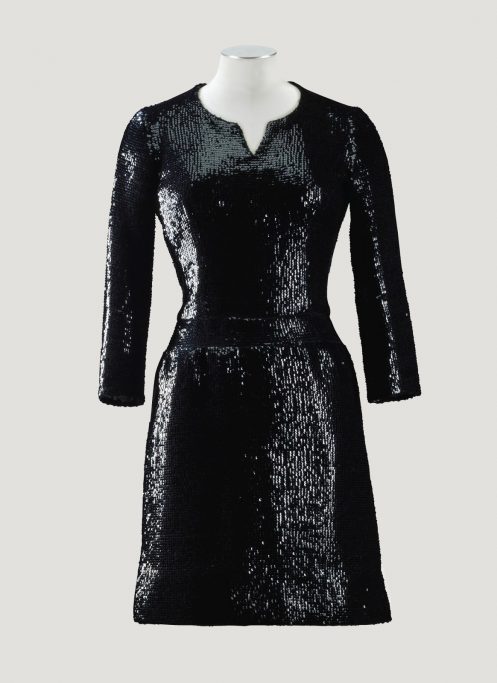 CHANEL HAUTE COUTURE, 1963 A BLACK SEQUINED COCKTAIL DRESS
FROM THE WARDROBE OF ROMY SCHNEIDER
The timing is perfect: with the world's attention on Paris for the Couture Fashion Week, Sotheby's will auction 160 Haute Couture items this Wednesday – July 8 at the Galerie Charpentier, making it its first ever Fashion auction sale in Paris.
Of course, the items from Sotheby's first Couture auction in Paris could only come from the crème de la crème: Didier Ludot's private collection. Known as France's greatest "fashion antiquarian", Didier Ludot will probably ring a bell to all fashion lovers. His legendary Palais-Royal gallery provides a comprehensive overview of 20th century fashion, with designs by Paul Poiret, Yohji Yamamoto, Madame Grès, Christian Dior, Cristobal Balenciaga, Azzedine Alaïa, Jean-Charles de Castelbajac, John Galliano and Comme des Garçons among others.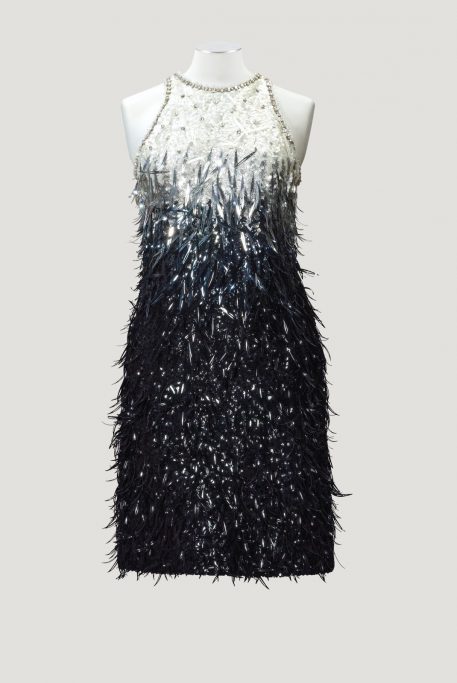 YVES SAINT LAURENT HAUTE COUTURE, A/W 1967-68 A FINE BLACK TO WHITE DEGRADÉ MINI-DRESS WITH LONG FEATHER-SHAPED SEQUINS BY MAISON LESAGE
Real treasures will be among the stunning garments and accessories, produced between 1924 and the early 2000s: the Chanel "little black dress" with sequins owned by Romy Schneider; the Duchess of Windsor's psychedelic 60's dress; Loulou de la Falaise's Yves Saint Laurent hat; Mona Bismarck's Balenciaga cape; the sculptural dresses Alaïa created for Bettina; the impeccable Dior jacket designed for Josette Day; Barbara Hutton's Cartier jewel box…
Each of the 160 pieces that will be auctioned was carefully chosen by Monsieur Ludot for its technical skill and beauty,
sometimes to reflect the trademark style of the couturier who created it, or the
elegance of the woman who wore it. It is to these women, famous and anonymous
alike, to whom Didier Ludot owes his vocation.