On the Swiss side of Lake Geneva, from Lausanne to Montreux, the Lake Geneva Region (Canton of Vaud) offers a wide range of landscapes allowing leisurely strolls, pure enjoyment, discovering and tasting – even more so in the late summer, which was the time I decided to return this year, after a wonderful Christmas break last year. With everything the region has to offer, one can easily understand why celebrity visitors also fell in love: Charlie Chaplin with Vevey, Freddie Mercury with Montreux, Coco Chanel with Lausanne and Audrey Hepburn with Morges. But let's focus on today, and let me offer you a few recommendations on my favorite spots for a Swiss escape to the Lake Geneva Region.
First things first: the lake 
In my opinion the jewel of the Canton of Vaud if there was only one to pick, is Lake Geneva. The largest lake of Europe is simply sublime and mesmerizing, whatever the weather – and has something to offer to everyone on the Riviera, especially in the summertime with the microclimate that gives it a Mediterranean feel. The setting is perfect to enjoy "Dolce Riviera" – until early to late October !: wooden decks are strategically located in different cities such as Montreux and Vevey, offering outstanding access to the water for those who love swimming, or simply chilling out. The terraces also offer direct access to hotspots such as KJU in Vevey: a restaurant, bar and club in a former 18th century boathouse. Their inspiring menu includes delicious tartare steaks. All those activities can be enjoyed with the imposing Alps as a background. 
The lake is also known for the many cruises it offers. The CGN company preserves and operates the most prestigious Belle Epoque fleet of the world, including La Suisse: commissioned in 1910 and fully renovated in 2009, the CGN flagship has been described as the most beautiful steam boat in the world, with the restoration work on its first and second class lounges making them real masterpieces. La Suisse's first class restaurant is the perfect setting for a gourmet lunch cruise catered by Café Léman, while taking in the stunning views the lake offers. A truly "Lemanian» and Swiss restaurant, Café Léman serves products exclusively from and around the lake and Switzerland. After your lunch, you will be able to relax in one of the boat's lounge chairs and savour the beauty of a unique panorama.
Five star stay in Vevey 
There are many options to choose from as to where to stay while on the Montreux Riviera in order to explore the Lake Geneva Region. Vevey is one of them. A treasure of the Swiss Riviera, the city can be considered as a charming village, with the assets of a big city – and among those assets, its prestigious hotels are to die for. If you should choose one, it should be l'Hôtel des Trois Couronnes: a peaceful haven that combines beauty, relaxation and discovery… No wonder it has been the hotel of choice over its history for famous musicians, writers, composers, movie stars and royalty – the Empress of Russia, Alexandra Feodorovna, Queen Olga of Greece, Princess Marie-­‐Louise of England and King Ibn of Saudia Arabia to name a few.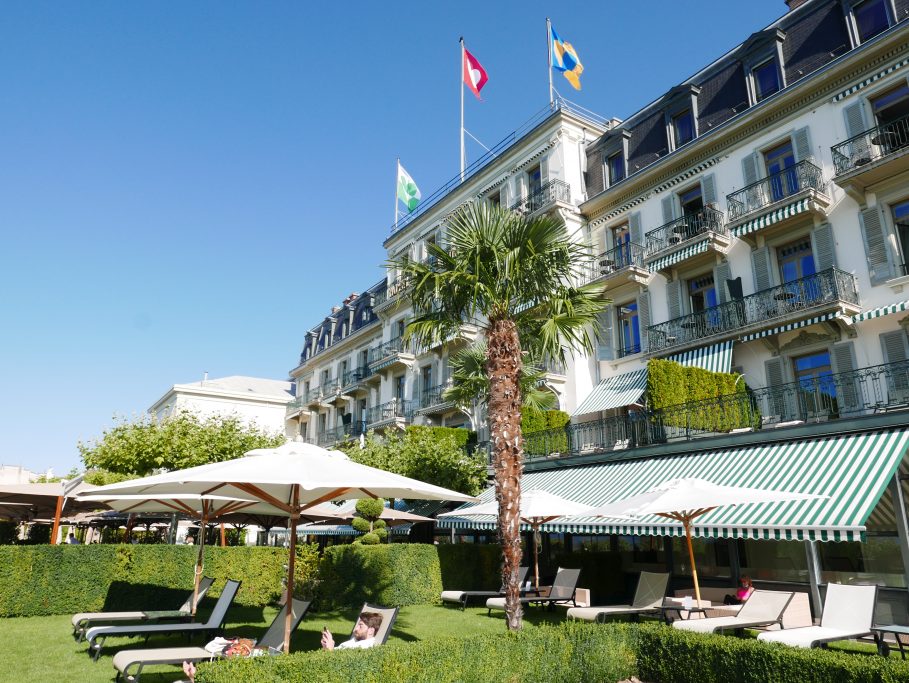 Most of the rooms offer a terrace or balcony with breathtaking views over Lake Geneva and the Alps – each being individually designed, with particular attention paid to the fabrics and furniture. An intimate palace, l'Hôtel des Trois Couronnes is home to "Le 3C" restaurant, where Chef Cécile Fontannaz offers her fine Alpine cuisine, based on seasonal and quality products from the Alpine Arc – and served in the hotel's historic dining room or on its striking terrace overlooking Lake Geneva. And because Switzerland is the land of well-being, the hotel's Puressens

 

Spa offers various health and wellness programs as well as

 

the largest indoor swimming pool in the city, all to be enjoyed 

 

along with the serenity of the surrounding nature

 as it opens to a relaxing garden, most inviting to relaxation in its lounge chairs.
Vevey is an invitation to endless strolls, from the shore of Lake Geneva to the old town: from the Grande Place to the edge of the Jardin Roussy, the old town of Vevey is a maze of narrow streets where it is pleasant having a stroll. In this pedestrian area, fountains and statues, some of which are over a hundred years old, frescoes and colourful signs alternate at every corner, as well as numerous cafés, terraces and boutiques. For a unique souvenir, a visit to Lionel Meylan's boutiques is mandatory. It's an opportunity to discover fascinating watches and jewellery that Switzerland is famous for, and to meet a team that is both authentic and professional. 
Other mandatory visits while in Vevey include:
Chaplin's World: this museum dedicated to Charlie Chaplin is a unique opportunity to learn more about his childhood, his family life, his way of writing and playing in the very heart of the family home, the manor of Ban where the artist spent the last 25 years of his life. 
Alimentarium: founded by Nestlé and featuring a delightful selection of exhibitions, interactive presentations, and cooking workshops, the Alimentarium invites all of us to take another look at an essential activity: eating.
Wine tasting in Lavaux 
After admiring them from every angle while enjoying your gourmet cruise aboard La Suisse, you will have to explore the terraced vineyards of Lavaux and its charming villages, listed since 2007 as a UNESCO World Heritage site. Among them, Chexbres is home to Domaine Bovy: there, you can opt for a tasting of the Bovy family's great wines along witha winegrower's board (cheeses and cold meats), to be enjoyed on the veranda. A fantastic location that opens onto the great spectacle of the terraced vineyards of Lavaux, with views stretching across the lake to the Alps.
To organize you trip to the Canton of Vaud, please visit www.lake-geneva-region.ch.