Regular readers and followers of The Parisian Eye know that The Beverly Hills Hotel is an absolute favorite of mine, since I first stayed there in 2014. Known as The Pink Palace, the hotel has been Hollywood's iconic landmark for over a century, with the biggest stars relaxing around the pool, movie moguls and finance gurus negotiating contracts at the Polo Lounge.
Great news, The Dorchester Collection brings a part of the American dream to Paris from June 1st, 2018: the similarity of their terraces and their belonging to the Collection led the Hotel Plaza Athénée in Paris and the Beverly Hills Hotel in Los Angeles to collaborate and recreate, on the most chic avenue in the city of lights, the 'casual chic' spirit of more glamorous West Coast hotels.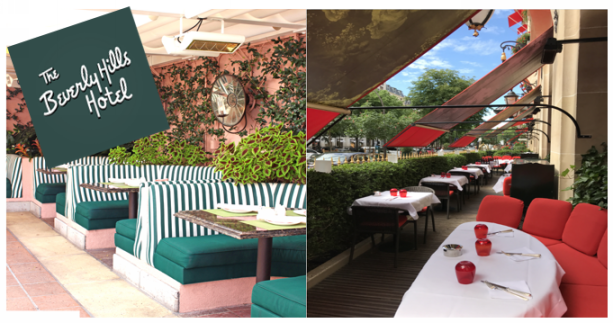 California will definitely be in the air on Avenue Montaigne for the warm spring and summer days: the Terrasse Montaigne welcomes its Californian alter ego, the Cabana Café, from June 1st.
With green and white striped seats, banana leaves printed cushions, pink polo shirts, beige chinos and white sneakers, the restaurant will adopt all the color and visual codes of the shaded terrace of the iconic Beverly Hills Hotel, from the furniture to the service.
On the menu (also dressed with the colors of the Cabana Café), guests will be able to discover four signature Beverly Hills dishes – the Mc Carthy Salad – my favorite, the Caesar Salad, the Tuna Tartare and the Sunset Club Sandwich – as well as a selection of 3 milkshakes (vanilla, strawberry and black). 5 sunny cocktails "From LA" will complement the drinks menu for a refreshing aperitif: Think Pink, Blueberry Lavender Fizz, Moscow Mule, Frozen Mojito and Lillet Sangria.
"Welcome to the Hotel California" at the Plaza Athenee Hotel!
La Terrasse Montaigne – 25 avenue Montaigne – phone number : 01.53.67.75.18
Opening scheduled for June 1st.
Reservation recommended for lunch and dinner.