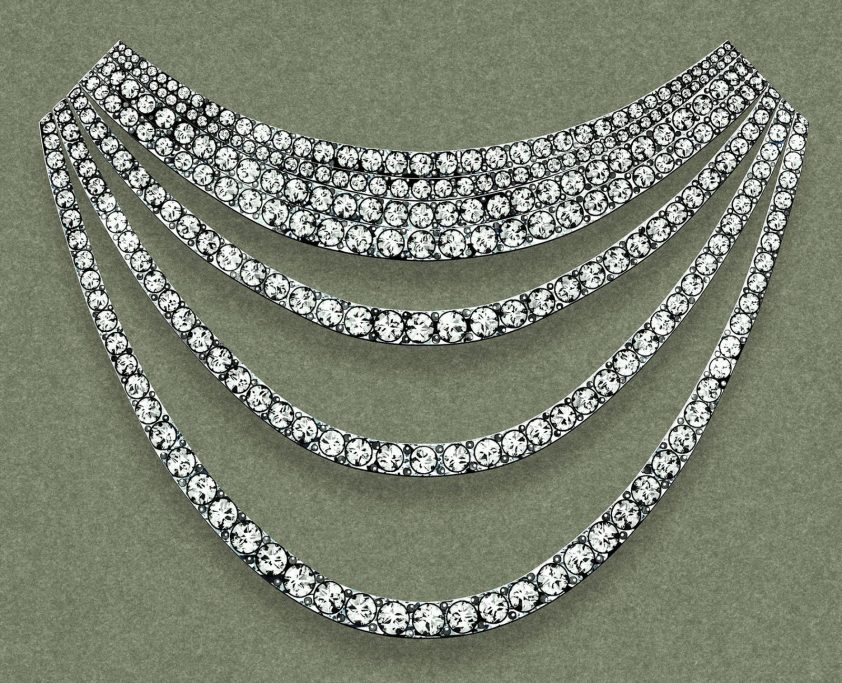 For Tiffany's 2016 collection, "Tiffany Masterpieces", Francesca Amfitheatrof has created astonishing masterpieces, full of imagination and designed in a traditional way. The collection is built around two themes: Tiffany Prism and Tiffany Ribbons. Also presented in Paris last July, the Jean Schlumberger line is one I particularly appreciated.
Tiffany Masterpieces expresses the rich heritage of the House in terms of design, celebrating innovation.
My favorite line, Tiffany Ribbons, is inspired by none other than Audrey Hepburn. Both classic and spectacular, the collection consists of extremely light draped pieces. The main piece of the collection is a dramatic platinum necklace with seven strands of diamonds that drape smoothly over the body's contours—each tier more dazzling than the next. Equally impressive is the design itself, which converts to allow the wearer three different yet equally elegant looks.
An equally sinuous bracelet wraps the wrist in scintillating strands of meticulously set diamonds offset by a dazzling strand of larger Lucida® diamonds that showcase the flexibility of the design and exude weightless grace.



Tiffany Prism is inspired by the virtuosity of Louis Comfort Tiffany, the first Design Director of the House, admired for his masterful use of light and color. Colored spheres appear in a vibrant composition of stones including tsavorites, sapphires and spessartites that make up a range of shades.