Among the novelties by Hermès introduced at Watches and Wonders 2021, the Hermès H08 watch is firmly embedded in the men's universe of the house.
The enigmatic name of the Hermès H08 watch hints at graphics, mathematics and metaphysics. The distinctively original font of the numerals chimes with the object, including a 0 and an 8 whose forms evoke that of the case. The 0 numeral embodies emptiness, while the horizontal figure 8 symbolises infinity. Like a journey between nothing and everything. As if echoing the mystery and depth of time.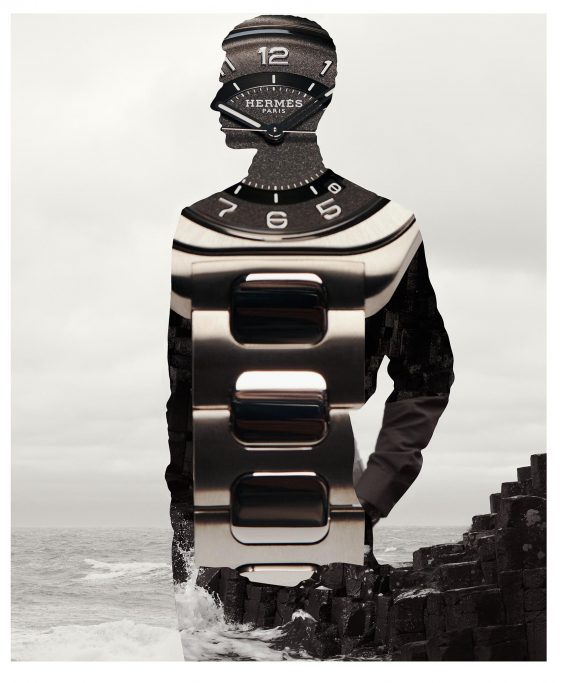 While clearly reflecting a long-term vision of time, it is equally at home with fast-paced living. The contemporary yet timeless new Hermès H08 watch has its finger firmly on the pulse of modern man, keeping step with every breath and every wave of excitement, every moment of rest and burst of speed. It is an object that strikes a balance, fostering dialogue between opposites and contrasts. 
The Hermès H08 requires the watchmakers that craft it to demonstrate a flair for detail, meticulous care, and patiently acquired expertise. Firmly of its time, it embodies spirit, momentum and movement. Its sporting-inspired design mingles taut and flowing lines, its circular dial framed by a case with softened edges, as if angles and curves were merging into a seamless whole. It appears bedecked in mineral materials and tones, with black, grey and anthracite quite naturally rubbing shoulders with blue and orange.
At once serious and sensual, robust and delicate, matt and glossy, it is defined by its inherently varied, multi-facetted nature – just like the Hermès man himself. The Hermès H08 watch is firmly embedded in the men's universe of the house that Véronique Nichanian has been shaping over the past three decades. A multidirectional world in which perfect cuts, sensual materials and impeccable standards of comfort are the common denominators.