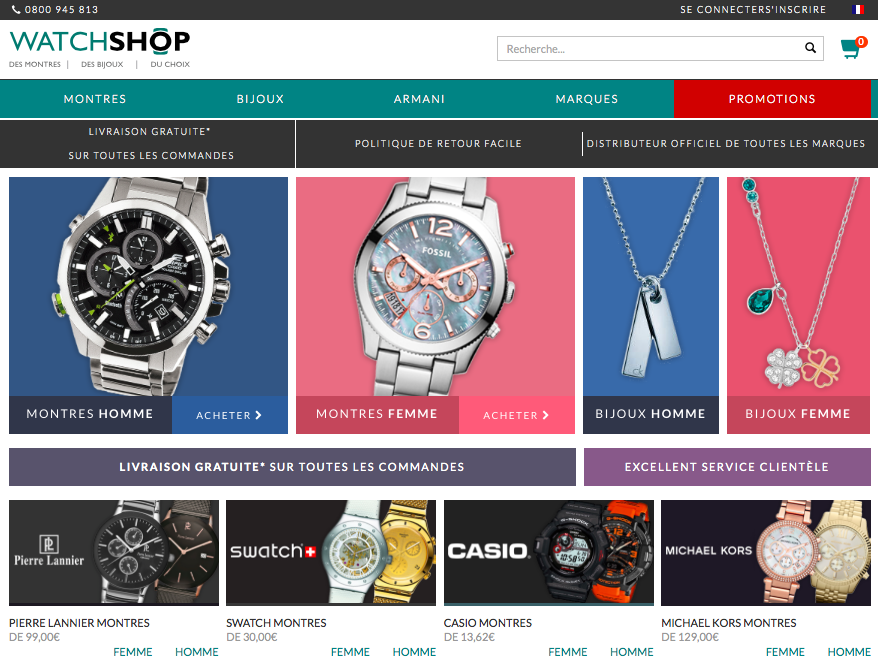 We don't have so many nice website to purchase good selection of jewelry and watches in France, so I was really pleased to learn that 
Watchshop.fr
is now available in France, a few months ago.
WatchShop is known as the e-shop leader in the UK for watches and jewellery, and it is lovely to benefit from such a trendy selection finally in France too.
WatchShop has been selling leading brands of watches and jewelry for almost 20 years, and was the first independent retailer of watches to see its advertisements broadcast on national television.
I gave it a try as I was looking for a casual watch for my upcoming sunny vacations, and I really appreciated the way WatchShop communicates with its customers at every stage of the purchase process, to inform them of their order status. The customer service teams are happy to answer any questions. The warehouse has a storage capacity of more than 100,000 watches and for each item, the level of stock is displayed on the site to ensure immediate shipment. Deliveries are made in 24 hours, and I got my watch so quickly I could not believe it was here already !
It's a perfect online option for Christmas presents, too… Think about it: 
Watchshop.fr
 !